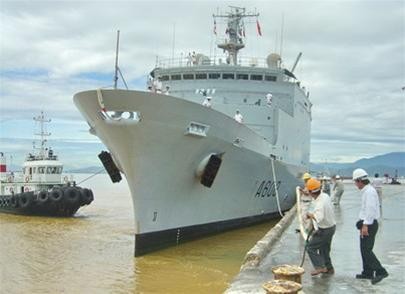 The A608 flagship VAR is docked at Nang Port
A French Navy A608 flagship VAR, berthed at Da Nang seaport Monday for a five-day visit where French Navy representatives will meet with Da Nang municipal leaders.
The ship, A608 flagship VAR, is headed by Commander Paul Massart and French Navy commander of the Indian Ocean Vice Admiral Hubert de Gaullier des Bordes.
From September 25 -29, they will work with Da Nang city leaders and take part in cultural exchanges and sporting events with Vietnamese third-section naval forces.
The group will go sightseeing around Da Nang and also travel to three of Vietnam's UNESCO World Heritage Sites: Hoi An ancient town, My Son Sanctuary, the city of Hue, capital of the last feudal dynasty in Viet Nam.