After the country achieved unification in 1975, My Khanh B, the poorest hamlet in Cu Chi District, HCM City, has risen from a war- stricken area, whose residents were mostly dependent on smuggling for their livelihoods, to one of Cu Chi's cultural hamlets. SGGP went to visit a place where residents are now mostly well educated and have urbane lifestyles to discover how they were able to change.

Found on the land, which used to be affected by the enemy's fierce bombardments, are wells created from bomb craters lying one after another in rows.

Tran Van Ngan, Party secretary of My Khanh B, widely called by his neighbors Uncle Ut Ngan, said, "I was born here and have grown up with the land. Witnessing the people being oppressed by invaders, I took part in revolutionary campaigns to fight against the enemy. But when the war was over, I, at the time, didn't dare to think that my hometown, where bomb craters were more than paddy fields, could have a future."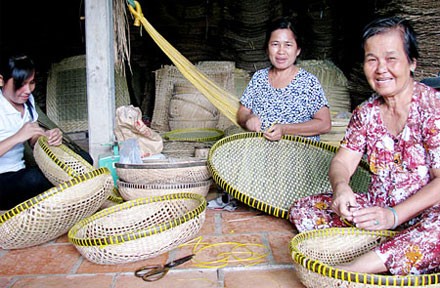 Many residents of My Khanh B Hamlet depend on weaving bamboo and rattan baskets for an honest livelihood (SGGP)
In wartime, Cu Chi was a free-bombing zone, where US jet fighters and artillery were allowed to blast at will. Some 21 bombs were recorded to have been buried in every square meter of land.

After 1975, war had finished but it left My Khanh B a tragic problem for the future of the local people. Most of the adults were illiterate. Children's education became secondary to many parents, as they did not even have money to buy rice for their families' daily meals.

Since Cu Chi is a contiguous zone with Long An and Tay Ninh Provinces, both bordering Cambodia, people of My Khanh B had no choice but to become smugglers. Between 60 to 70 percent of the total population in the hamlet was said to have earned a living by trafficking cigarettes and essential commodities.

Since the people of My Khanh B were aware that such a way of living could not last long, they determined to do something. They understood that to strive for a brighter future, they themselves and their children had to be brought the light of knowledge.

Literacy classes for adults and children were opened as a result. Every night, after hearing the sound of two metal objects being struck together repeatedly as a signal for every one to go school, hundreds of adults and children, with torches in hand, left their homes and walked on muddy paths to the classes. Many teachers voluntarily taught without pay.

Ngan said, "Escaping illiteracy and poverty was the determination of the Party and government of the hamlet. Since poor parents would ask their children to stay at home to be a help to them, veterans were entrusted by the Party and government with the task of raising the local people's awareness of the importance of education so that they would be willing to let their kids go to schools."

When local residents had already realized the importance of education, the government and people took up a collection to build schools and museums to honor heroic martyrs, benefactors of revolutionary campaigns and people who have brought honor and credit to the hamlet thanks to their profound knowledge acquired from good education.

Thanks to such a joint endeavor, many families in My Khanh B now have between five and ten members who are university graduates, postgraduates, engineers and doctors.

Nowadays, My Khanh B has been awarded the titles "Hero of the People's Armed Forces" and "Hero of Labor in the renovation period" to honor their significant contribution to the victory of the war for independence and freedom and to the social-development of country respectively.

My Khanh B is said to have successfully changed its look thanks to the locals' determination in striving for knowledge and a better life.