The Vietnamese market is presently full of imported fruits from China, coming in through the northern border gates in Lao Cai, Lang Son and Quang Ninh provinces, often with false labels of American or European origin.
Western markings, Chinese fruits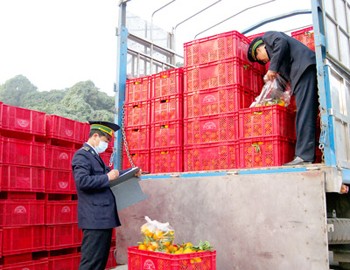 Officials inspect Chinese fruit imports into Vietnam at the Lao Cai Border Gate (Photo: SGGP)
Though Vietnam is one of the largest fruit growers in Southeast Asia, it still imports fruits for domestic consumption. In previous years, imported fruits only sold at supermarkets at exorbitant rates but now they are available in every market.
In Hanoi, people can easily find a variety of fruit from the US, Australia, Chile or New Zealand in most markets. However, 80 percent of the fruits come from China and the remaining from Thailand.
Every night, wholesale markets like Dong Xuan in Hanoi and Tho Tang in Vinh Phuc receive hundreds of trucks carrying fruits from Lao Cai, Tan Thanh and Mong Cai border gates.
Sellers stick western labels on Chinese fruits and sell at very high prices. For instance, a kilogram of US apple fetches VND120,000, a kilogram of Australian black grapefruit fetches VND200,000 and a kilogram of Australian pear sells at VND250,000.
There is only a very small volume of fruit in the market from America or Europe, according to Phan Huy Thong, deputy head of the Cultivation Department under the Ministry of Agriculture and Rural Development.
Managing imports
Tran Vu Hoang, head of the Customs Department in Lao Cai Province, said that fruits are exempt from import tariff, thus businesses import freely.
In Tan Thanh Border Gate in Lang Son Province, tons of Chinese fruits are imported every day, while in Lao Cai Border Gate, the number exceeds 400 tons of fruit and vegetables.
According to the Ministry of Agriculture and Rural Development, Vietnam now imports 27 kinds of fruits from China.
Bui Si Doanh, deputy head of the Plant Protection Department, admitted that so far the responsibility to manage and control quality and the origin of imported fruits was not clear between the Ministry of Health and the Ministry of Agriculture and Rural Development.
The health ministry said that they just manage hygiene and safety of processed foods while the agriculture ministry said that the Plant Protection Department has been tasked for the above mission.
However, in documents, the department's responsibility is just to examine and find germs that might harm plants. Management of quality and safety of fresh fruits and vegetables has not yet been regulated, Doanh said.
Phung Huu Hao, deputy director of the Department of Agricultural, Forestry and Aquatic Procedure Quality Management, said that the food safety law would take effect from July 1.
To import agricultural produce, including fruits to Vietnam, businesses must have origin certificates. They and their foreign partners must submit authorized organization names in Vietnam with documents to register the origin of the products.
Management of imported fruits at border gates will be monitored by the Plant Protection Department, Mr. Hao added.
When the fruits are sold in the domestic market, the quality and safety management will be the responsibility of the agriculture and rural development department in provinces and cities.
The market management force under the Ministry of Industry and Trade will punish offenders who use false labels to cheat consumers about the origin of the imported products.