For the past two days, fuel oil leaking from the Quang Phu Sugar Plant into the Tra Khuc River is turning sections of the river near Quang Phu Ward in Quang Ngai town into a grimy black color.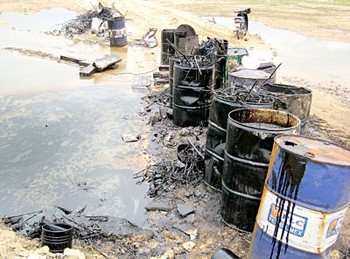 Fuel oil spill in Tra Khuc River being collected into drums in the central province of Quang Ngai (Photo: SGGP)
The fuel oil leak at the Quang Ngai Sugar Joint Stock Company plant occurred on Tuesday afternoon and lasted until the following day.
Yesterday morning, over 30 workers of the company were trying to clean up the oil spill from the river. They were seen scooping oil from the water surface and putting it into oil drums and bags to carry back to the plant.
The company also mobilized local residents to help mop the oil from boats and hired a tanker truck with a pumping machine to suck the oil.
However, the oil leak was too widespread; covering nearly one kilometer across the river and the clean up attempts looked futile.
Though the oil leak began at 4:30pm on Tuesday, the company did not report authorities until the following afternoon.
After receiving the information, representatives of the environmental police and Department of Natural Resources and Environment came to the scene to evaluate the pollution levels.
According to Phi Quang Hien, the department deputy director, they would soon analyze the environmental pollution caused by the oil leak.
Cao Minh Tuan, deputy director of the Quang Ngai Sugar Company said that fuel oil was used for lighting the stove fires of the Quang Phu Sugar Plant, a subsidiary of the Quang Ngai Plant.
On Tuesday, the plant security discovered that the valve on the oil container had disappeared, which they assumed had been stolen. This caused the fuel oil to leak and gush into the river.
Tuan said that the company had yet to determine the specific volume of leaked oil.
Relevant authorities are investigating and finding the actual cause of the leak as well as monitoring the clean up operations of the river. 
Nearly a year ago, the alcohol production plant of the Quang Ngai Sugar Company contaminated the Tra Khuc River, killing a multitude of fish from wastewater slush from their plant.