The 35th anniversary of the establishment of UK-Vietnam diplomatic relations was celebrated by the British Business Group Vietnam (BBGV) and British consulate in Ho Chi Minh City yesterday.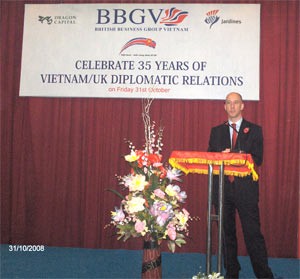 Mr. Mark Kent makes a speech at the anniversary party (Photo: Truong Son)
Tran Quang Dung, director of the Ministry of Foreign Affairs' HCMC office, Debble Clarke, the UK consul, BBGV chairman Khalid Muhmood and Pham Hoang Uyen, country manager for Cambridge ESOL were among those attending the function.                                  
Mr. Dung highlighted the first-ever visit by Prime Minister Nguyen Tan Dung to the UK last March and said this has strengthened bilateral ties.  
British Ambassador, Mr. Mark Kent said: "The visit was a great success and laid a firm foundation for further UK-Vietnam co-operation. Prime Minister Nguyen Tan Dung and Gordon Brown agreed to work together on five priority areas." 
There have since been a number of high-level visits to mark the 35th anniversary, including by Prince Andrew, the UK's Special Representative for International Trade and Investment, to Vietnam and by various senior Vietnamese officials to the UK.