In an effort to support the victims of traffic accidents, Sai Gon Giai Phong Newspaper has put forward an initiative to establish a Fund for Assisting Treatment Expenses of Traffic Accident Victims.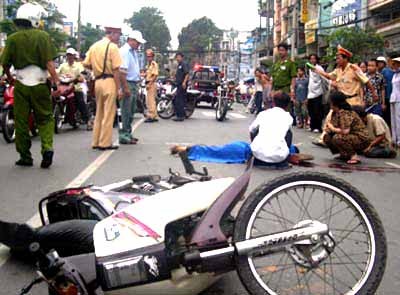 Traffic accidents cause many difficulties to the society and the people

The initiative soon received support from Cho Ray Hosital, Vinasun Corporation and the HCMC Traffic Safety Department.

They have held meetings to reach an agreement on the operation and the use of the fund. A Memorandum of Understanding will soon be signed before the fund comes into operation in July, according to the Vinasun Corp.'s vice Director, Nguyen Bao Toan.

The company have also pledged to donate VND100 million (around US$ 6,250) to the fund, assuring that it has initial money for operation.

The Director of Cho Ray Hospital highly appreciated the initiative, saying he hoped the fund would receive more support from the community and local businesses.

According to the HCMC Traffic Safety Department, during the first five months of 2007, some 563 accidents occurred in the city, killing 482 people and injuring 347. During the first 10 days of this June, 42 accidents occurred, killing 33 and injuring 20.

During the first six months of 2007, Cho Ray Hospital received 14,839 patients of which 851 died of traffic accidents. Meanwhile, on average, it costs VND50 to 70 million (around US$3,125 to 4,687) to treat each patient suffering from brain injuries that are often sustained in traffic accidents.
These costs cause many families to lose everything, whilst many poor families cannot afford the expenses and have to leave their relatives to die or become permanently handicapped.