Experts and officials are trying to decide what to do with a paper factory worth VNĐ3 trillion (US$133 million) in the Cửu Long (Mekong) Delta province of Long An that has been out of operation for many years due to technical problems.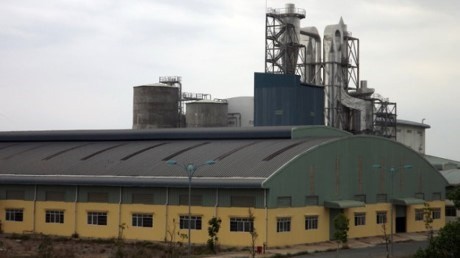 Phương Nam Paper Factory. Photo tuoitre.vn
Phương Nam Paper Factory's construction commenced 10 years ago. The factory's investor, Transport and Communication Development Investment Company (Tradico) under Civil Engineering Construction Corporation No 6, promised to "produce the best quality paper in Việt Nam, equivalent to European standard" from jute plants.
Along with the ambitious plan, local authorities called on residents to plant jute over an area of 9,000ha in the districts of Mộc Hóa, Tân Thạnh and Thạnh Hóa, the Nông thôn ngày nay (Countryside's Today) newspaper reported.
The investment management of the factory was handed over from Tracodi to Việt Nam's Paper Corporation (Vinapaco) in 2009.
More than 11,000ha of jute were then harvested and run through paper production machines in 2007 and 2008. However, the production system malfunctioned due to the low quality of the jute plant cutting process in the first stage of paper production.
Foreign and domestic experts in mechanics and industry were invited to address the problem and suggested replacing jute plants with hard wood. All proposed solutions, however, were ineffective and could not bring about any economic benefit.
Nguyễn Xuân Hồng, of Long An Province's Department of Industry and Trade, said no paper was produced from the machines, despite efforts to use jute and repair the machinery.
Locals who expected to be lifted out of poverty by planting jute have been left destitute by the empty factory. Over 11,000ha of jute planted by locals have rotted and become food sources for mice.
Former Prime Minister Nguyễn Tấn Dũng accepted the Finance Ministry's proposal to close the factory in 2014 and ordered relevant agencies to roll out measures to liquidate or sell the factory.
To date, the factory has yet to be purchased, said Nguyễn Văn Được, deputy chairman of Long An Province's People's Committee.
More seriously, the whole jute planting area in Long An Province has been wiped out, said Lê Văn Hoàng, director of the provincial Department of Agriculture and Rural Development.