It has been almost two decades since the garbage dump has been in operation, and several years since it began seriously troubling residents of the Kimhong-Fortuna building.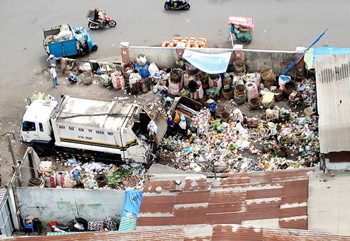 A corner of the garbage dump causes badly environment pollution in Phu Tho Hoa Ward, Tan Phu District, HCMC (Photo: SGGP)
The stink and health impacts of the dump are starting to become unbearable, but for than a year 800 or so residents of the building in Tan Phu District have felt their complaints about negative health impacts of a rubbish dump have fallen on deaf ears.
Located right behind the building in Pham Van Xao Street, Phu Tho Hoa, the garbage dump receives and handles over 50 tons of household rubbish a day.
"We have to suffer foul smells all the time, and it gets worse on days after heavy rains. Some households have left their apartments to hire accommodation at other places," says a petition signed by over 100 households in the building.
Pham Thuy Quyen, a building resident, pointed at scars on her arms, saying they occurred after she treated blisters that doctors said was dermatitis infection because of "contact with insects."
Her husband, son and other households in the building also suffer from the same disease, Quyen said, adding that they keep wondering when their suffering will end.
The residents have sent petitions to relevant agencies, but are yet to see any changes.
Luong Thi Phuong, deputy chairwoman of Tan Phu District, said that the 83 square meter garbage dump was built in 1992. It uses rudimentary technology, which cannot ensure environmental hygiene, to treat the garbage, she admitted.
Since 2009, environment inspectors and the district People's Committee have proposed that the city authorities approve a project to build a modern garbage dump that meets environment protection standards in the Phu Tho Hoa Ward.
However, the city People's Committee is yet to make any decision on the project, and the garbage dump in Phan Van Xao Street continues to make nearby residents suffer.
District authorities have said that all they can do now to limit environmental pollution is to spray and spread chemicals to deodorize and decontaminate the garbage, and prevent ragpickers from foraging through it.