Businesses in the garment and textile industry has raised concerns over regional minimum wage increase and proposed the Prime Minister and authorized agencies to securitize the increase level to prevent highly up labor costs and down employment.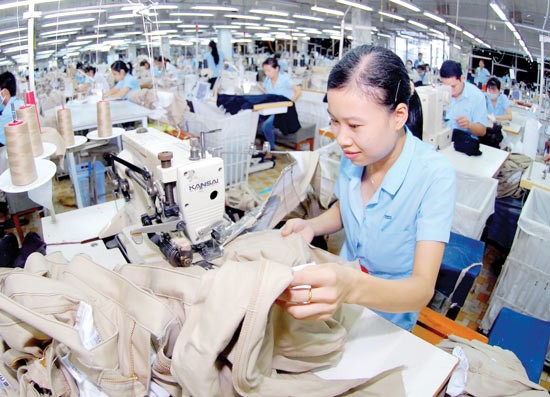 Garment and textile businesses concern about high minimum wage increase (Photo: SGGP)
The National Wages Council will spend the final day of discussion on regional minimum wage increase today.
Representative of the northeastern branch of the Vietnam Textile and Apparel Association (Vitas) comprising firms in Hai Phong, Hai Duong and Quang Ninh Tran Thi Sinh Duyen said that most businesses had sought all ways to lift salary as much as possible and improve workers' lives.
A survey by the Vietnam General Confederation of Labor shows that 20 percent of workers are paid insufficiently to cover monthly expenditure, 31 percent are pennywise, 41 percent earn a bare living and only 8 percent can make savings.
 
A worker with children spends an average of VND4.2 million (US$187) a month, up 3.6 percent over 2014.
Basing on results from the survey, Ms. Duyen says the current wage level which businesses pay to workers meet 80 percent of workers' living needs.
Mr. Nguyen Xuan Duong, chairman of Hung Yen Garment Corporation, said that their average income reached VND6.5 million (US$289) a worker a month not including premium and meal expenses.
Disagreeing with the wage increase rate of 16.8 percent as proposal by the confederation, Mr. Duong explained that the corporation has 14 member companies. Five have been established for eight years or longer and earned a profit of 7-10 percent of processing revenue last year, the earnings are likely to drop this year because of rising costs and declining prices of their products.  Nine one to six year old firms have incurred losses.
With the current wage level, the corporation must pay VND190 billion (US$8.46 million) in premiums and VND17 billion (US$756,500) in labor union fee, of these workers pay VND60 billion and VND5.7 respectively.
 
Assuming the minimum wage increases 16.5 percent, these costs will surge by VND31.5 billion and VND2.5 billion, comprising VND9.9 billion and VND825 million from workers.
The corporation has already spent 60-70 percent of its processing revenue to pay salary. This level has been higher than the minimum wage after increase. Therefore the company would not have to lift up salary any more, however, insurance and union fees will highly run up to slash monthly payment by VND83,000-243,000 a worker.
Deputy Director General of Hai Garment Company said that besides minimum payment call 'hard wage', businesses supplement other allowances and bonus called 'soft wage' to raise workers' income. The hard and soft wages create total income, which is a limited number at businesses. When the minimum wage level edges up, the soft wage will be forced to slide and vice versa.
In the wage structure of businesses, they need the soft salary to be large enough to implement measures on labor productivity improvement. If the salary system is hardened or the fixed payment is highly increased, labor productivity will be affected, he added.
 
It will also decrease the net wage of workers because of up premium and additional fees, he explained. That's why 76.39 percent of workers at the corporation have found it unnecessary to stiffen minimum wage in 2016.
6-7 percent increase proposed
In a proposal to the Prime Minister, Vitas chairman Vu Duc Giang said that after synthesizing opinions from branches nationwide, the association proposed 6-7 percent minimum wage hike to prevent other costs from rocketing.
In case the proposal is approved, labor costs will raise an extra of VND17 trillion (US$765.5 million) to cover 2.5 million workers in region 2. Of these, premiums will soar by VND7.39 trillion and union dues will go up VND450 billion, meaning profit reduction to businesses.
 
If the minimum wage hikes 10 percent, labor costs will increase by VND23.2 trillion (US$1.03 billion) including VND8.7 trillion premiums and VND530 billion union dues.
If it raises 16.8 percent, total labor costs increase will pass VND32.4 trillion (US$1.44 billion) including VND10.7 trillion insurance and VND660 billion union fees.
 
According to businesses, minimum wage has been continuously increased for the last decade. If it continues rising, businesses will face more difficulties in production expansion to create more jobs and technology renovation to improve labor productivity. Many might even have to close down or go bankruptcy. Free trade agreements so will more benefit foreign firms than domestic companies. 

Related article:
Minimum wage increase might shock businesses, expert