A gas explosion occurred yesterday in a hotel in the mountainous Sapa town, Lao Cai Province, injuring one hotel staff.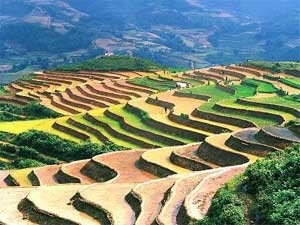 A terraced field in Sapa
The explosion at 1:15am inside the Dinh Cao Hotel's kitchen was caused by a leakage from a big gas canister, according to local police.
Glass windows of the hotel's first floor and the two houses next door were either shattered or fractured.
No death toll was reported but one 17-year-old front desk employee was injured as his face and body were pierced by glass splinters.
A total 52 guests, 40 of whom foreigners, were in the hotel when the accident occurred but no one was harmed. They were later moved to two nearby hotels for safety reasons.
Local police are further investigating the incident.
The mountainous Sapa town is located in the northern part of the country and is renowned for its beautiful scenery and unique cultural heritages of ethnic people.