After more than five months, the Vietnam Machinery Installation Company has just finished the installation of a 13 km pipeline connecting the coast with one of the two Ca Mau gas-power plants.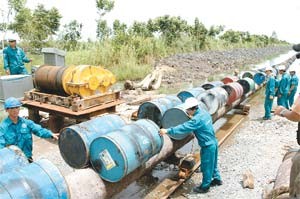 Gas pipeline installed for Ca Mau power plant
The pipe has a diameter of 457 mm, a wall thickness of 12.7 mm and is covered with a 50 mm thick plastic concrete layer.
 
The plant, including two gas turbines, is expected to generate a "first stage" total output capacity of 750 MW by March 2007, in time to provide power for the 2007 dry season.
 
Ultimately, both of Ca-Mau's two plants will use gas which is transported from the PM3-Ca Mau offshore oilfield. The line, capable of transporting 2 billion cubic meters of gas per year, has a total length of 325 km, of which 298 km runs on the seabed. 
 
After being completed, the Ca Mau gas-power project will provide the national power grid with 10 billion kWh of energy per year, making up 18 percent of the country's total power production.
The power project is part of the colossal US$1.2-billion Ca Mau Gas-Power-Fertilizer Complex in the southern-most province of Ca Mau.
The Complex is a key element in the nation's five year development strategy, which aims to use natural resources for industrializing and modernizing the country.
The 200-ha complex will include a power plant, a fertilizer factory, a port area, offices and staff residential quarters.