The Ministry of Science and Technology has identified 33 stations nationwide for fixing their petrol pump meters to cheat customers, and recommended that the Ministry of Industry and Trade ban them from doing business.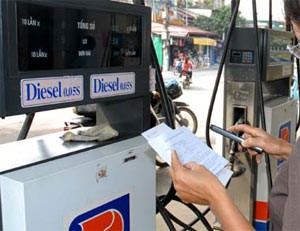 33 cheating gas stations in 13 provinces face ban for rigged pumps
The 33 fuel stations were found to have fixed the chips and electronic circuit boards to rig the display on petrol pumps, some of them with a disallowed error margin of 10 percent.  
The fraud helped the stations to sell less gas than displayed on the pump screen, and pocket the difference. 
The list of the 33 cheating fuel stations in 13 provinces (sorted by province)
- Dak Lak: Bao Ngoc Huong private enterprise at Krong Ana district and Minh Thuan Ltd. Co. at Buon Ma Thuot city
- Gia Lai: Petroleum stations of the Production, Construction and Commercial Service Company No. 25 at Mang Yang district and of the Highland Development Company at Kong Chro district, petroleum station at An Khe Commune, Xuan Hoa Ltd. Co. at Chu Se district, Hoang Anh Ltd. Co. at Ia Grai district, Bich Thuan Ltd. Co. at Mang Yang district, and Tu Phat Ltd. Co at An Khe commune.
- Dak Nong: Lien Khuong Ltd. at Tuy Duc district and Hung Thinh Ltd. Co. at Cu Jut district
- Dong Nai: "Quang Bien" station of Viet Hung Ltd. Co
- Ho Chi Minh City: Petroleum station no. 2 at Binh Chanh commune of Binh Chanh district and  Uy Minh Ltd. Co at A7/27 Highway 1A, Tan Tao A ward of Binh Tan district
- Binh Duong: Long Nguyen No.1 Ltd. Co. at Ben Cat district, Hung Thinh Ltd. Co. at Di An district and Thanh Thanh Ltd. Co. at Dau Tieng district.
- Long An: Hiep Thanh No.2  Ltd. Co. at Tan An town.
- Quang Nam: Hong Ha Ltd. Co. at Hoi An city.
- Nghe An: the limited companies as following: Cong Nguyet and Van Dien at Nam Dan district; Van Dung, Dien My, Mao Phuong and Dien Yen at Dien Chau district; Thanh Nga and Hien Son at Do Luong district; Quang Lan, Hop Thanh, Tam Hang, Hop Thanh, Dao Thien, Khanh Thanh at Yen Thanh district; and Loc Dai, Hop Thanh, Ba Tu, Cong Thanh at Yen Thanh district.
- Hung Yen: Duc Thuan Ltd. Co at Van Giang and Cao Tuom Ltd. Co. at An Thi district
- Nam Dinh: Yen Ninh Duong station at Yen Ninh commune
- Phu Tho: Hong Chau station at Phu Ninh district
- Lang Son: a petroleum station of the Lam Hung Ltd. Co. at Dong Mo town.
Related article:
City announces 8 cheating fuel stations