An agreement on economic, cultural and tourism development was signed March 25 in Hue City at a gathering to mark the 50th anniversary of friendly relations between Hanoi, Hue and Ho Chi Minh City.
At the event, delegations from the three localities reviewed their tradition of solidarity and mutual support in relation to the past struggle for national liberation and showed their determination to continue promoting good relations.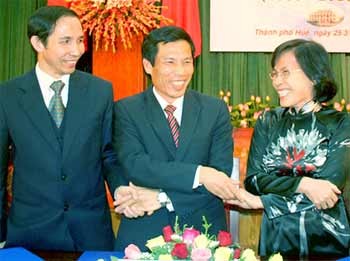 Three leaders of Hanoi, Hue and HCMC attend a ceremony March 25 in Hue City to celebrate the 50th anniversary of the cities' friendly relations. At the event, delegates vowed to boost cooperation in various fields. (Photo: SGGP)
Leaders from the three municipalities said they would strengthen cooperative efforts in boosting the socio-economic development of each city and contributing to the country's modernization.
They also agreed that a number of agencies in each locality would discuss plans for expanding their cooperation in various fields.
In addition, leaders from Hanoi and HCMC offered 10 houses, each valued at VND25 million (US$1,300) to 10 poor families in Hue.
Earlier, the HCMC delegation donated a total of VND2 billion (US$105,000) to poor families in Thua Thien-Hue Province.
Great political significance
Fifty years ago, a ceremony was held to launch the partnership between Hanoi, Hue and then Sai Gon at Hanoi's Ba Dinh Club with attendance of over 1,000 delegates.
The event was of great political significance, since it boosted the mutual support and assistance between the three localities in the country's resistance war against American invaders.
During the war, Hue and South Vietnam received great support from Hanoi as well as the North in general.
The partnership also triggered a movement of establishing friendly relations between northern and southern provinces and cities at that time.
Such cooperative relationships contributed to the resounding victory of the Ho Chi Minh Campaign in 1975, which liberated South Vietnam and led to the later unification of the country.