After two days of searching for the gayal or wild oxen that attempted to enter Phu Bai Airport in Thua Thien-Hue Province, wildlife experts were able to tranquilize it on July 24, but it died on the way to the elephant breeding farm in Thuy Bang Commune of Huong Thuy Town.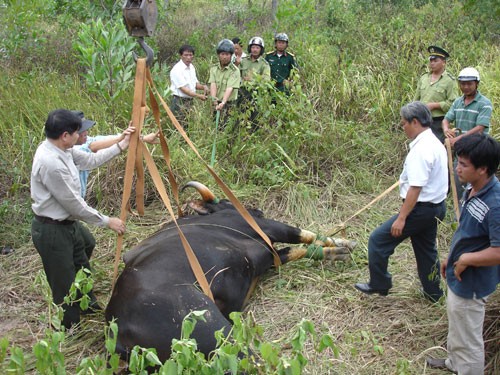 The gayal fell unconscious after it was given tranquilizer shots (Photo: Thanh Nien)
A group of wildlife experts arrived at the scene on July 24 to help capture the 1.5 ton animal, while a local joint force, including police, forest rangers and soldiers, blocked all entrances to the airport.
The animal was given many tranquilizer shots and fell unconscious. Right after, it was injected with cardiotonic drug and craned onto a truck and then transported to an elephant breeding farm in Thuy Bang Commune of Huong Thuy Town, for captive care. 
However, Nguyen Viet Hoach, head of the provincial Forest Protection Sub-Department, said the animal died on the way to the breeding farm.
Concerned agencies have performed an autopsy on the animal to identify the cause of the death and will make it known to the media soon.
The airport was reopened by 5pm on the same day and seven flights took off and landed after that at the airport.
The gayal is a rare and endangered species and is listed in the Vietnam Red Book. Illegal deforestation and poaching have reduced the numbers of this already highly threatened species.