Gross Domestic Product (GDP) per capita in Can Tho City in the Mekong Delta in 2013  has hit VND63 million (US$3,000), a six time increase compared to 2004, said Tran Thanh Man, City Party Committee Secretary, at a press brief on the last 10 year achievements of the City.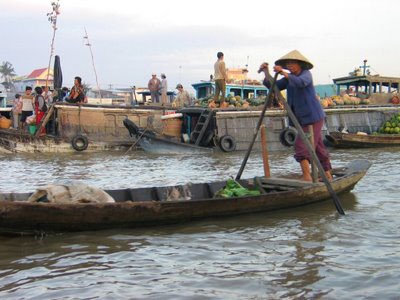 Floating Market in Can Tho, a popular tourist attraction (Photo: Nguyen Nam)
GDP rose 11.6 percent in 2013. The 2013 GDP growth mostly contributed to the expansion of the service sector which touched VND63 trillion (US$3 billion), up 3.5 percent compared to 2004.
Industrial production value in 2013 reached nearly VND87 trillion (US$ 4.1 billion), representing a 7.5 percent rise compared to 2004.
Total retail and service sectors this year reached VND62 trillion (US$ 3 billion), highest in the Mekong Delta. The highlight is that Can Tho City collected around VND11 trillion (US$522 million) for the state budget, much above the yearly target by 24.5 percent.
Can Tho City is striving to become an industrial city before 2020 and the socio-economic, education and training hub of the Mekong Delta. Moreover, it wants to play a role as the driving force behind growth in the Mekong Delta.