Gross Domestic Product (GDP) rose by 6.03 per cent in the first quarter of this year, the highest level in five years, the National Assembly was told yesterday on the first day of its ninth session.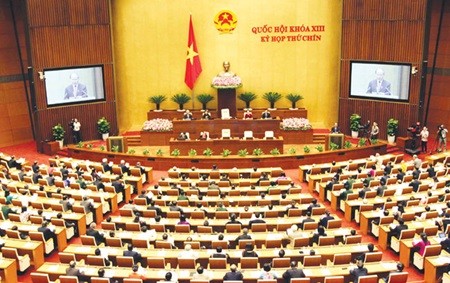 An overview of the opening ceremony of the 13 th National Assembly's ninth session in Ha Noi yesterday. — VNA/VNS Photo Phuong Hoa
However, delegates were told socio-economic development had been handicapped by the search for new markets for farm products, environmental pollution and the quality of labour force.
The NA Chairman Nguyen Sinh Hung confirmed the stability of the macro-economy, and the maintenance of low inflation and social security.
He said bilateral and multilateral relations had been strengthened, especially during the 132nd Inter-Parliamentary Union Assembly.
Deputy Prime Minister Nguyen Xuan Phuc reported that the Consumer Price Index (CPI) in the first four months rose by 0.04 per cent compared with the same period last year. Export turnover surged 8.2 per cent.
The index of industrial production grew by 9.4 per cent year-on-year in the same period.
Many important traffic projects have been opened, including the expansion of National Highway 1A and Ho Chi Minh Highway, Nhat Tan Bridge, Noi Bai-Nhat Tan Highway and T2 Terminal at Noi Bai International Airport.
An agricultural area has been planned to apply high technology and new regulations on rice land.
Nguyen Van Giau, chairman of the NA Committee for Economics, agreed with Deputy Prime Minister Phuc's report on achievements in the socio-economic development. However, he said economic growth was not yet sustainable and there was a lack of highly-qualified workers.
Some deputies expressed concern about the country's trade deficit of US$ 3 billion. This is more than 6 per cent above the total export-import turnover, higher than the figure of 5 per cent set by the NA. This was caused by a 15 per cent year-on-year decrease in farm and aqua-cultural exports.
Deputy Prime Minister Phuc admitted that the growth of agricultural production was lower than the same period last year. Severe drought had battered many regions, especially central and Central Highlands provinces. Some agricultural products, such as rice, rubber and fruit, failed to find the markets.
Nguyen Thien Nhan, the president of Viet Nam Fatherland Front Central Committee, said voters were concerned about finding markets for farm products such as rice, watermelons, lychee and fish and following national and international standards of agricultural production.
Giau said that the Government's support of enterprises, farmers and fishermen had been timely. But, the realisation of these policies was slow and troublesome, failing to meet the demand of people.
Nhan said voters were also concerned about environmental pollution in rural areas. However, inspections of factories involved have yet to be made.
Deputy Prime Minister Phuc said environmental pollution had become a serious issue, triggering anger among people and affecting their health. Especially, about 50 per cent of solid waste in rural areas was left untreated.
NA Chairman Committee for Economics Giau agreed that food safety, labour safety and environmental protection left much to be desired. For example, Vinh Tan No1 Power Plant had caused environmental pollution in its local area. However, the investor and local authorities showed no positive responses to the issue.
Giau recommended that strict punishment should be applied to environmental polluters.
Draft laws presented
Also yesterday, three draft revised laws – the Penal Code, the Civil Procedure Code and the Penal Procedure Code - were presented to the 13th NA meeting.
The amended Criminal Code, with 443 articles – an increase of 99 from the current version, is expected to become a sharp and effective tool to fight crime, safeguard national sovereignty and security, protect citizens' rights and develop a socialism-oriented market economy.
The Civil Procedure Code is revised to address shortcomings revealed during the enforcement of the code over the past 10 years. It is part of the Party's judicial reform push. The revised code has 43 chapters and 491 articles, including 76 new articles, amendments and supplements to 238 articles. Seven articles have also been cut from the existing version.
Changes to the Criminal Procedure Code were hailed as radical and comprehensive. They aim to enhance the responsibility of legal bodies in protecting citizens' rights as stipulated in the Constitution. The revised code has 38 chapters and 486 articles. Compared to the 2003 version, the draft law adds 172 articles, modifies 294 articles and removes 26.
The NA also heard a proposal asking for approval of the 2013 State budget balance sheet.