Gender inequality in Vietnam is increasing, which was released at a meeting " join hand to solve gender imbalance" on September 28 in Hanoi with the participation of Deputy Prime Minister Vu Duc Dam and thousand of local residents.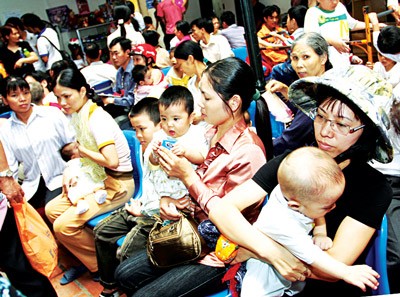 Vietnam is facing a serious gender imbalance due to sex prejudice (Photo: SGGP)
The meeting was held by the United Nations Population Fund (UNFPA) and the Farmer Association of Vietnam in the framework of the campaign to reduce the gender imbalance on the occasion of the International Day of the Girl Child ( on October 11) which aims to recognize girls' rights.
Speaking at the meeting Mr. Arthur Erken, UNFPA Representative in Vietnam pointed out that sex disparity in the Southeast Asian has been going on later than other Asian countries but its speed is very fast.
It is forecast that by 2050 the country may have 2.3 -4.3 million men left unmarried due to the increasing gender disparity in the nation.
In addition, increasing gender imbalance will create social pressure and behavioral problems in the community including girls dropping schooling and getting married at early age. Sex imbalance will also trigger an increase in sex trade and sexual aggression, and an expansion of women trafficking networks.

Mr. Arthur Erken also noted that sex selection becomes more and more serious due to paternalistic attitudes and women's lack of financial and social autonomy.

The campaign is aimed to raise residents' awareness of cause and consequences of sex selection owing to sex prejudice and call for the government's and related agencies' efforts to erase sex imbalance as well as sex prejudice.