Everybody, from leaders to soldiers and the public, should strive to overcome any challenges to successfully carry out the country's renovation, to make Vietnam into "a strong country with a wealthy people and a just, democratic and civilized society," said General Vo Nguyen Giap.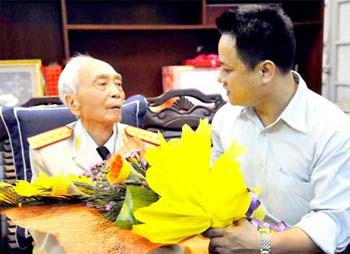 A Sai Gon Giai Phong representative visits and presents flowers to General Vo Nguyen Giap at his home in Hanoi (Photo: SGGP)
His statement was made during a reception with a representative of the Editorial Board of Sai Gon Giai Phong, who visited him at his home in Hanoi for the 55th anniversary of the Dien Bien Phu Victory (May 7).
He sent his kind regards via the newspaper to all former soldiers, volunteers and people who had taken part in the Dien Bien Phu campaign.
The campaign lasted two months, which led to the French finally pulling out of Vietnam.
He also called on HCM City, well known for its great contributions to the nation's two wars of resistance, to gain greater achievements in its renovation, deserving to be named after President Ho Chi Minh.
HCM City, as well as provinces and cities across the country, should give more attention to living conditions of young people and children, particularly those in remote areas, ensuring education, since they are the future of the country and the nation.
"Please accept my best regards and try to learn well, so that you can contribute to making our country more and more vigorous and prosperous," he said.
As old as he is, the General, 99, always pays attention to the country's questions of the day. "He spends 30-45 minutes everyday listening to reports on the country's situation," said Col. Nguyen Huyen, an assistant to Gen. Giap.
Photo expo about Gen. Vo Nguyen Giap

A photo exhibition, "General Vo Nguyen Giap – Moments," by photographer Col. Tran Hong will open on May 5 in Hanoi to mark the 55th anniversary of Dien Bien Phu Victory.

The expo will feature more than 70 photographs of Gen. Giap that Col. Hong took during his 20 years of working with the General.

The exhibition will last until May 10.