The board in charge of building the new National Assembly building and Ba Dinh meeting hall on February 26 hired Association International GmbH – Inros Lackner AG as the design consultant.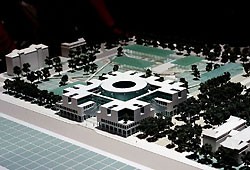 The prize-winning model of the new NA building from Germany's Association International GMBH – Inros Lackner AG which has been signed on as a consultant for its design and construction (Photo: VTC)
The German firm had won a design contest last year for the construction of the seat of the government.
The value of the contract signed is over 8.149 million euro ($10 million).
At the site, the Institute of Archaeology is removing ancient relics found there earlier to hand over the land to the board by March.