"Vietnam is always in my heart," German journalist Hellmut Kapfenberger has told Vietnamese Ambassador to Germany Do Hoa Binh before leaving for a working visit to Vietnam.
At a reception held in Berlin on April 8, Vietnamese Ambassador Binh highlighted Kapfenberger's works on Uncle Ho and Vietnam which, he said, have helped German people better understand about Vietnam and promoted the two peoples' relationship.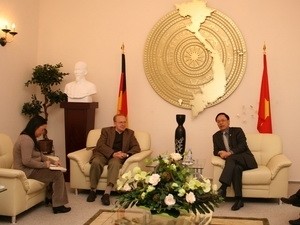 German journalist Hellmut Kapfenberger (C) and Vietnamese Ambassador to Germany Do Hoa Binh at the reception (source: Vietnam News Agency)
The Vietnamese diplomat also wished Kapfenberger's visit to Vietnam a success.
Kapfenberger, who will visit Vietnam again at the invitation of the Vietnamese Ministry of Information and Communications, said that he would meet historical figures and visit historical relics to collect documents to finalise his works on the Ho Chi Minh trail and the Vietnamese people's glorious struggle against the US .
He also revealed that his two books on Vietnam will make their debut soon in Germany .
Journalist Hellmut Kapfenberger lived and worked in Vietnam for several years as a correspondent of the News Agency of the German Democratic Republic (AND) and the New German newspaper in the 1970s-1980s.
His book "Ho Chi Minh – a chronicle" published by Neues Leben Publishing House in Germany and his articles on late President Ho Chi Minh on the New German newspaper have received warm welcome from German readers.
His book was translated into Vietnamese on the occasion of late President Ho Chi Minh's 120th birthday in 2010.