KwF, a non-governmental organization from Germany, has said it wants to stop funding KwF pledged for the Phong Nha-Ke Bang nature conversation project because the project's management board has infringed its commitments.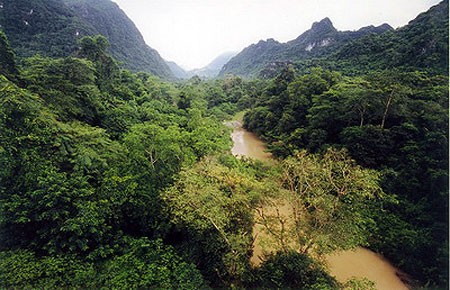 A view of Phong Nha Ke Bang National Park
The project was begun in October 2008 with aid from Germany worth EUR12.63 million.
 
On behalf of the German Government, KfW Entwicklungsbank and the German Agency for Technical Cooperation provides technical and financial assistance to the central province of Quang Binh, where Phong Nha Ke Bang National Park is situated, and the Phong Nha Ke Bang park administration.
 
The poject, which would be implemented until 2016, is aimed to maintain the biological diversity in Quang Binh area, support the development of buffer zone, protect natural resources in the park, and reduce poverty for as many as possible of the 56,000 residents living there.
 
After nearly two years of implementation, many works of the project have become stagnant or yet to be developed.
 
Under the project, 4,250 hectares of forest have to be developed and over 11,000 hectares of existing forest have to be protected, of which total 600 hectares have to be developed and protected in 2010, but until now no tree has been planted.
 
KfW gave the management board over EUR350,000 for planting forest in July 2009, so far the board has disbursed only EUR114,000, but no tree has been grown.
 
The NGO has asked the board many times to provide records showing its disbursement in 2009, but the board has parried it.
 
On June 14, 2010, KfW sent a note to the province People's Committee and Department of Planning and Investment, and the management board to ask the board to give it back the remaining EUR200,000 which has yet to be disbursed.
 
In the note, the bank said the province and the board have violated agreements signed between the province and the bank.
 
It said the board has not reacted effectively to clearance and burning of natural forest in the buffer zone, and taken the initiative in management of the project.
 
The bank also said that it doesn't approve the board's plans on activities and budget for 2010.
 
According to a survey by Sai Gon Giai Phong, seedlings cultivating farms in the province don't meet required standards so about 30-50 percent of seedlings have died, but the board has failed to help farmers.
 
Under the project, farmers who join the project must be trained in cultivation, but many farmers said the training was very perfunctory and they couldn't learn any things from it.