In these days there isn't a single Berliner who isn't thinking of leaving the city, at least for a few days. Outside the fair grounds, thousands of freezing visitors wait in long lines to gain entrance. How much we would all like to take off and land in some place, far away, like Viet Nam, where the temperatures allow us to take off our heavy overcoats and have a pleasant breeze cool our skin.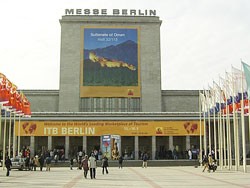 ITB entrance
After the end of World War II, in 1945, it became much easier for people to travel, and with the advent of mass communication techniques, such as television and telephones, it became possible to learn about other people and other places.

Tourism, once reserved for the wealthy, became possible for millions of people with limited means. A new industry arose, and this was reflected 40 years ago, when Berlin inaugurated its annual International Tourism Fair (ITB).

Just as tourism has grown, so has the fair. This year 10,856 exhibitors from 183 countries are competing for their share of 800 million annual arrivals and a US$6,5 trillion annual business. It is only natural that the Viet Nam has decided to attend the fair (this is the second year in a row), with a total of 20 exhibitors.

For many countries, especially those which have few natural resources to sell or process, tourism is a bread-and-butter business.

Viet Nam is far away. Not only does it take 12 hours to fly to either Hanoi or Ho Chi Minh City (direct flights from Frankfurt/Main via Viet Nam Airlines), but the stand of the Viet Nam National Administration of Tourism is located in Hall 26, at the far end of the fair grounds in Berlin.

A long walk, but happily rewarded by the pleasant and hospitable people at the stand and at the stands of other Vietnamese exhibitors.
In Viet Nam's list of tourist markets, Germany occupies the middle ground, in place 13 out of 20 major markets, with a total of 69,378 German tourists in 2005, up by 12% from 2004. The largest contingent came from China (717,409), followed by Japan (338,509) and the USA (330,197), which, however, increased its number by 21%. Many are former US soldiers, who have their reasons for visiting Viet Nam. The total of foreign visitors to Viet Nam reached 3,500,000 in 2005.

But: the Viet Nam has, with its economy and with tourism, a long way to go. The press release described Viet Nam as a pearl in an oyster, meaning, by inference, something rare and valuable, requiring a certain amount of effort, but which also creates an irresistible fascination among tourists from all over the world. Viet Nam is aiming at 10,000,000 visitors annually. Among the events being promoted is the Sea Festival in Ba Ria-Vung Tau in April, the Hue Festival in June, the Da Nang Cultural-Tourism Festival in July, and the International Travel Expo in Saigon in August.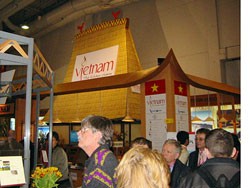 A Vietnamese pavillion in the ITB
Viet Nam is launching visit Year of Quang Nam, a central province which includes the city of Hoi An and the sanctuaries of My Son, both on the UNESCO world heritage list. Festivals and seminars on tourism will be organized during the year. Hoi An is rapidly becoming a major tourist attraction in the country thanks to its well-preserved XVII century structure. The city has 80 hotels including 9 four and five-star hotel with 1,150 rooms.

Viet Nam wants to turn Phu Quoc, the country most southern island, into an international resort area with a special international status. The island should become the country's primary resort region by 2010.
With 3.5 million arrivals in 2005, Viet Nam is fast becoming a leading destination in Southeast Asia thanks to average growth rates of 20% per year.
According to Dr Pham Tu, Vice Chairman of the Viet Nam National Administration of Tourism, the country expects to continue to grow by 10-20% annually until 2010 and reach 6 million international visitors by 2010.

The government plans to further relax visa requirements to enter the country. Visas were abolished last year for Japan and Scandinavia. Negotiations are on the way with France, a critical source market for the country'stourism industry.

One can only wish Viet Nam's tourist managers success. As the friendly manager of the Viet Nam National Administration of Tourism stand, Nguyen Pho Duc said in very good English: "step by step, more and more Germans are discovering the delights of visiting Viet Nam and its sights."