The 14th Asia-Pacific Conference of German Business (APK14) was opened in Ho Chi Minh City on November 21, which creates new investment and cooperation opportunities for German and Vietnamese enterprises.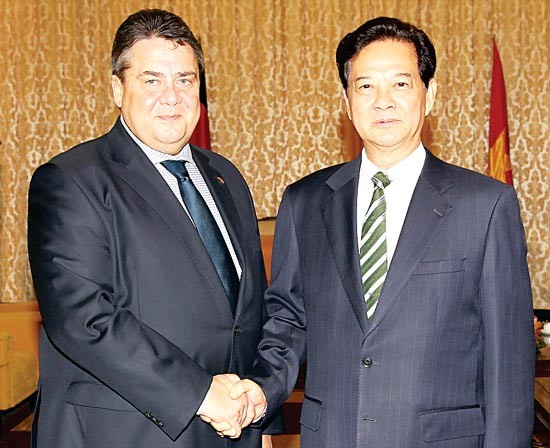 Prime Minister Nguyen Tan Dung (R) and Vice Chancellor and Federal Minister for Economic Affairs and Energy Sigmar Gabriel.
Attending the ceremony was Prime Minister Nguyen Tan Dung; Vice Chancellor and Federal Minister for Economic Affairs and Energy Sigmar Gabriel; Chairman of the Asia-Pacific Committee of German Business Hubert Lienhard; General Secretary of ASEAN; Economic Ministers in the Asia-Pacific region; economic experts and nearly 700 leading Vietnamese, Germany and Asia-Pacific enterprises.
Speaking at the opening ceremony, Prime Minister Nguyen Tan Dung affirmed that Asia- Pacific investors in general, in particular, German investors and business community always have played an important role for motivating global economic development and cooperation, accounting for 55 percent of the GDP of the global.
Currently, Germany is one of Vietnam's largest trade partners in Europe with two ways turnover reaching US$ 8 billion, accounting for 20 percents of total trade turnover between Vietnam and EU in the recent years, said PM Dung.
Vietnam has promoted economic restructuring and economic growth innovation in order to raise GDP of 6-7 percent in the period of 2016- 2020. Vietnam is calling for foreign investors in economic- social infrastructure projects such as electricity grid, energy, urban traffic, port and airport constructions that are able to open up favorable opportunity for foreign investors into Vietnam market.
German Vice Chancellor said that Vietnam in general and Ho Chi Minh City in particular are not only one of the largest economic financial hubs in Asian region but also the best destinations for new tendencies.
Germany is concerned about the maritime sovereignty in the East Sea because it plays the leading important role in transporting cargo. According to Germany Government's viewpoint, all disputes should be solved via the international rules.