Germany wishes to strengthen multi-faceted relations with Viet Nam and become a big economic partner, said visiting German President Horst Kohler during a talk with Vietnamese President Nguyen Minh Triet in Ha Noi on Monday.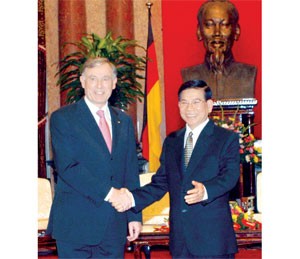 State President Nguyen Minh Triet (R) welcomes German President Horst Kohler at the Presidental Palace in Ha Noi on May 21

He appreciated Viet Nam's role in Southeast Asia and the country's open-door policy, and congratulated Viet Nam on its admission to the World Trade Organization.

For his part, President Triet said Viet Nam attaches great importance to its relationship with Germany and highly values the role of Germany in the European Union and the world at large.

He spoke highly of cooperative projects initiated by Germany in the fields of poverty reduction, economic reform, education, health care, natural resources protection and sustainable development.

President Triet lauded Germany's policy to enhance economic and trade ties with Viet Nam and thanked the German government for economic and technical aid it had given to Viet Nam.

After the talk, the two leaders witnessed the signing ceremony of two bilateral agreements on teaching German as a second foreign language in selected secondary schools and establishing a German university in Viet Nam.

On the same day, German President Kohler met with Vietnamese Prime Minister Nguyen Tan Dung.

Although Germany is a big economic partner of Viet Nam and bilateral trade turnover reached US$2.4 billion in 2006, the two countries' trade exchange is still under potential, said PM Dung.

The fact that Germany, the world's third largest economy, is ranked 20th among 77 countries and territories investing in Viet Nam, is somewhat unsatisfying, he added.

The German president wholeheartedly agreed with PM Dung, saying Germany wishes to see Viet Nam become a vigorously developed economy.

The two sides hoped bilateral trade turnover would hit US$5 billion in 2015, and discussed cooperation and investment in the fields of education and training, automobile manufacturing, energy, environment, communications and transport.