The southern province of Kien Giang hosted a get-together on September 27 to mark the 40th anniversary of Vietnam-Japan diplomatic ties and the 2013 Vietnam-Japan Friendship Year.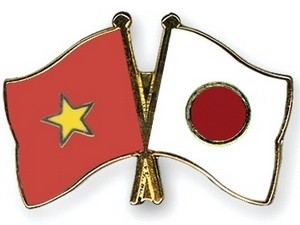 Illustrative image. Photo: Crossed-flag-pins.com - VNS
Addressing the event, Vice Chairman of the provincial People's Committee Mai Van Huynh highlighted the impressive development of bilateral ties over the past four decades.
Sharing cultural similarities, Vietnamese and Japanese people have continuously fostered their friendship and cooperation, he said.
He noted that Japan is now Vietnam's third largest partner with two-way trade reaching nearly 25 billion USD in 2012. It also ranks first among countries and territories investing in Vietnam with 1,900 valid projects worth a total of 33 billion USD.
Japanese Consul General in Ho Chi Minh City Hida Harumitsu thanked the people of Vietnam and Kien Giang in particular for their assistance to people in the eastern part of Japan who were hardest hit by the 2011 earthquake and tsunami.
He affirmed that the celebration of the 40 th anniversary of diplomatic ties and the 2013 Vietnam-Japan Friendship Year have further enhanced the friendship and mutual understanding between the two peoples and created a good investment environment for Japanese businesses.
Kien Giang is one of the Vietnamese localities to have established friendship and cooperation with Japan.
Initial cooperation and investment activities between the province and Japanese cities and prefectures have been successful.
The province has signed a cooperative agreement with Kobe city while several Japanese companies such as Foster Electronics Ltd and AOKI Trading Co., Ltd have established cooperation with local businesses.
Presently, Kien Giang and the Japan International Development Agency are implementing a project on sewage and wastewater treatment on Phu Quoc Island with a total investment of 6.1 trillion VND (286 million USD) sourced from Japan's official development assistance.
On this occasion, the Japanese Consulate General in Ho Chi Minh City and the Vietnam Union of Friendship Organisations' Kien Giang Chapter co-organised a range of programmes introducing Japanese culture.