A thorough investigation has begun into cause of dam breach at the Ia Krel 2 Hydropower Plant in the central highland province of Gia Lai Province in which hundreds of residents had to be evacuated on June 12.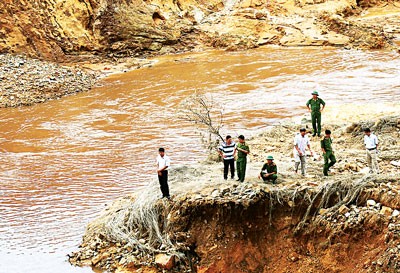 Officials from Gia Lai Province and the investor of Ia Krel 2 Hydropower Plant examine the breach site on June 13 (Photo: SGGP)
The torrent of water from the burst  dam washed away vast crops of  vegetables, industrial plants and stocks of food of the Ja Rai ethnic minority people in O, Bi and Mok Den Villages in Ia Dom Commune of Duc Co District. Hundreds of households now stand to face food shortage.
Vo Thanh Hung, chairman of the People's Committee in Duc Co District, said that rescue workers have relocated 30 households along the river to safer locations. The district is also assessing damage for compensation from the investor of the hydropower plant--the Bao Long-Giai Lai Industry and Hydropower Company.
Initial statistics show that about 200 hectares of rubber trees and vegetables have been swept away or flattened to the ground in Duc Co District.
Bach Duc Quang, director general of the Bao Long-Giai Lai Company, on June 13 attributed the cause of the dam breach to a depression in the 5-7m wide box drain installed horizontally under the dam surface.
He said that during construction, heavy trucks and road-rollers travelled across the dam and caused cracks on the ceiling of the box drain below ground, leading to the depression and causing the dam to burst.
Quang said that his company must now list damages caused and prepare to rectify the losses as soon as possible. He, together with authorized organs of Gia Lai Province examined the breach site on the same afternoon.
Le Vinh, director of the Department of Construction in Gia Lai Province, said that the cause of the dam breach is due to poor quality construction and disregard to proper procedures which led to the box drain to crack.
On the sideline of the fifth session of the National Assembly, Deputy Prime Minister Hoang Trung Hai said that the Ia Krel 2 dam burst in the dry season, proving its construction had been done very carelessly.
He has instructed authorized organs to investigate the cause of the breach and strictly handle any acts of violation.

Related article:
Dam breach in Gia Lai Province, two missing