Four girders of Phap Van – Linh Dam viaduct under construction in Hanoi unexpectedly collapsed on Sunday, causing panic among residents around the construction site.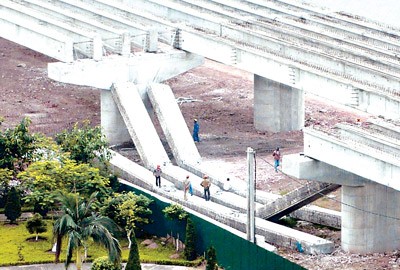 File photo shows Phap Van - Linh Dam Bridge's girders after the collapse on April 18. (Photo:SGGP)
The collapse happened during lunchtime so it left no casualties, but an estimated 600 million (US$31,500) worth of damage was done, said Nguyen Duc Y, director of Bridge Company No.7.
The girders were set up in position in the end of 2009, said Mr. Y.
According to Dai Kim Ward's police, after the case occurred, security guards of the construction site blocked the scene and the project contractor planed to hide the news on the collapse.
While a worker wanted to come in the construction he was stopping and attacking by the security guards, said a police of Dai Kim Ward.
The Bridge Company No.7 is studying the cause of the collapse and it would try to not affect the progress of the construction which was expected to finish in August, said Mr. Y.
The Phap Van -Linh Dam viaduct is a part of the Thanh Tri Bridge project crossing the Linh Dam urban area and Giai Phong-Phap Van intersection.