At 9pm ysterday, a taxi lost control and veered off the road to hit a soup vending stall in front of house 71A on Chu Van An Street in Binh Thanh District in Ho Chi Minh City, pushing a girl eating soup under the car.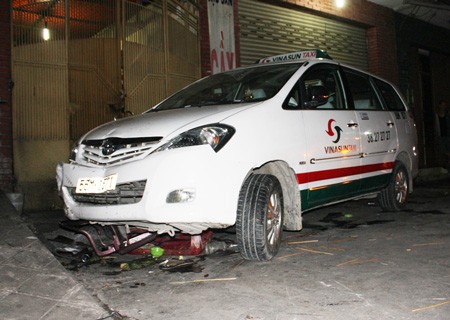 The taxi at the scene of the accident ( Photo: SGGP)
According to initial information from the traffic police in Binh Thanh District, Dang Hoang Hon, 27, from the Mekong delta province of Hau Giang and employed by Ngoc Khoa Carwash Shop on 73A Chu Van An Street, was driving a Vinasun taxi into the cleaning area when he lost control and drove straight into people sitting in front of the house next door.
43-year-old Nguyen Thi Hong, owner of the soup stall, said many people were eating on the sidewalk at that time when the taxi veered off the road. She and others present managed to stumble out of its way.
One of the customers, 10 year-old Le Kim Ngan, who managed to run only 5 metres, was hit by the taxi and ended up getting stuck under the vehicle.
People had to manually lift the car up to extract her and take her to hospital.
While the car's bonnet was severely crushed, the scene of the accident was littered with plastic chairs, bowls, chopsticks and spoons.