Vietnamese President Tran Dai Quang yesterday sent a letter of compliment to girl who donated her mother's organs to save four people.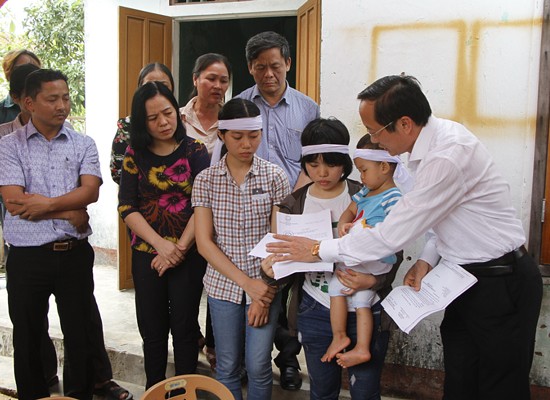 A representative of local authority presents gift and certificate of merit to Sang (Photo: SGGP)
Many people felt admiration for 19 year old Nguyen Thi Sang in Kien Thanh commune in Dak R'Lap District in the Central Highlands province of Dak Nong who restrained her sorrow on the death of her mother and agreed to donate the mother's organs for saving four people.

Sang's mother, Nguyen Thi Lieu, had a traffic accident on March 19 while she crossed the road. Despite Cho Ray hospital doctor's efforts to save her, she was diagnosed not to survive because of her fatal brain injury.

During time to look after her mother in the hospital, Sang accidentally watched television program "Missing pieces in life" upon the dead people's organ donation.

Accordingly, when doctors encouraged her to donate her mother's organ to save many people, she agreed. After her decision, Sang mother's two kidneys, one liver and one cornea were donated to save four patients.

In his letter of praising, President Quang wrote that he was moved by the act of the girl who is in deep sorrow by the mother's death yet she still thought about others; therefore, she decided to donate her mother's organs to save people. He highly appreciated her decision and surely, her mother will be proud of her good decision.

President Quang shared the sorrow with the girl expecting that she and relatives to soon overcome the sorrow of the death to be an anchor for younger brothers and sisters.

President Quang also hoped local governments and neighbors help her family overcome the difficulties in life.