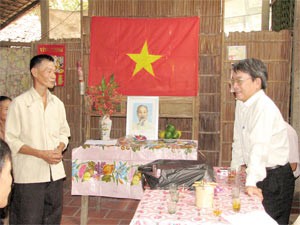 A benefactor hands out a home to a breadline family in the Ho Chi Minh City
The Ho Chi Minh City's Committee for Public Assistance for the Poor has for years dedicated itself to lending a helping hand to the poor and underpriviledged people of the city.
In the past five years, the committee has called on the support from generous individual and group benefactors to ease acute hardship in 20 poorest wards in the city.
In the first six months of 2006 alone, the group's achievements have been nothing less than great.
As many as 52 houses were built for poor families who contributed to the fight against the enemy in wartime. Also, 482 houses were handed out to breadline families in the city.
Fifty-two bicycles and 1,317 scholarships were awarded to excellent students from poor indigent backgrounds.
Last Tet holiday, the committee gave over 4,000 presents worth nearly VND894 million to penurious families and hosted many other social activities designed to ease the difficulty of the underprivileged at the traditional festival.