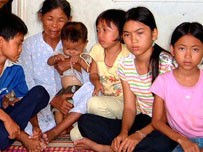 Five these children become orphans after their father killed by Typhoon Chanchu
The Ministry of Education and Training has handed down some suggestions for educational institutions and vocational training centers to make life easier for students affected by Typhoon Chanchu at the upcoming entrance examinations.
Besides exempting the students from the exam and registration fees, the schools should provide them with free accommodation on campus during exam time, the ministry says.
Students wanting to enroll in vocational centers should get priority if they come from areas affected by Chanchu, and those under the age of 18 should be given assistance in the form of books and subsidies. And if they are successful in the entrance exams, the students should get a discount on the normal fees.
The ministry has also told the provincial directors of Education and Training in Da Nang, Quang Nam, Quang Ngai and Binh Dinh provinces to work together to help these students continue their education.
As far as fund-raising is concerned, there has been a generous response to the plight of the central region's typhoon victims.
The Viet Nam Fatherland Front says it has raised VND3.5 billion from within Vietnam, as well as US$23,000, EUR1,589, and ₤5,355 from here and abroad. Particularly generous have been the many overseas Vietnamese communities that have dug deep into their pockets for the sake of the disaster's human casualties. Similarly, the Viet Nam Red Cross has reportedly received more than VND600 million from within and without the nation.