Donors from the Global Facility for Disaster Reduction and Recovery (GFDRR) began Oct. 5 a three-day visit to Vietnam to know first-hand how the country is increasingly becoming more prepared and resilient to the devastating effects of natural disasters.
The disaster-prone country saw more than 160 people killed by super Typhoon Ketsana last week and is facing super Typhoon Parma, which killed dozens in the Philippines.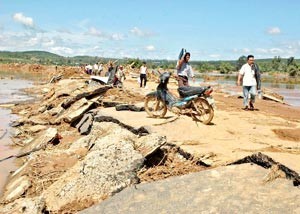 A road in central Vietnam damaged by floodwater triggered by super Typhoon Ketsana last week (Photo: SGGP)
The natural disasters the GFDRR delegation pays attention to include typhoons, floods, earthquakes and other events that systematically affect Vietnam and its neighbors.
The delegation represents Finland, France, Japan, Luxembourg, Norway, Sweden, the UK, European Commission, United Nations International Strategy for Disaster Reduction, and the World Bank, the GFDRR said in a Monday statement.
The donors are to meet with government authorities, GFDRR, and World Bank staff to discuss the impact of recent disasters in the region and ways to further support government initiatives for sustainable recovery and longer term reconstruction, according to the announcement.
"Countries in the region are affected by 50 percent of all recorded natural disasters and 82 percent of all population affected in the world live here," Per Byman from the Swedish International Development Cooperation Agency and GFDRR Co-chair, said in the statement.
Byman added, "GFDRR is bringing a systematic and innovative approach to disaster risk management and climate change adaptation that provide East Asian Pacific countries with adequate tools to account for disasters in their development planning and to have the adequate tools to mitigate the economic and social impacts once a disaster hits."
With GFDRR support, a strategy is being implemented in the region, focused on supporting country-led disaster risk management programs and investments.
With a grant of about US$1 million from the GFDRR, the World Bank is working with the Vietnamese government to integrate disaster risk reduction into ongoing development initiatives in the Northern Highlands, improve drainage models for low-lying coastal cities, provide city managers with a tool to assess and improve their cities' disaster preparedness, increase communities' awareness of and resilience to natural hazards, and provide an overview of current tools to finance disaster losses.
This June, the Association of Southeast Asian Nations (ASEAN) Secretariat, the United Nations International Strategy for Disaster Reduction and the World Bank announced a cooperation program – under Track 1 of GFDRR – to strengthen disaster risk reduction and disaster management in Southeast Asia.
The GFDRR is a partnership of 18 countries, the European Commission, the United Nations and the World Bank, committed to helping disaster-prone developing countries and regions reduce their vulnerability to natural hazards and adapt to climate change.