News organizations worldwide have extensively covered Viet Nam's selection as a non-permanent member of the United Nations Security Council for the 2008-2009 term.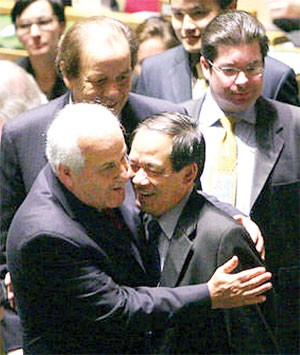 Representatives from other countries congratulate Vietnamese delegation at the 62th session of UNSC on Oct 17 (Photo: Xinhua)
China's Xinhua news agency quotes Vietnamese Prime Minister Nguyen Tan Dung as confirming, "Viet Nam will actively cooperate with the other UN Security Council members to formulate appropriate policies for the sake of the legitimate interests of all UN member countries."
Meanwhile, the AFP says the "new role will elevate Viet Nam's international prestige", but it will come with heavy responsibilities for Vietnamese leaders, who wish to make friends with all nations. 
Nasdaq describes Vietnam's elevation as a significant achievement in the 30 years since it joined the United Nations.
With a more active role in the international arena, Viet Nam will have greater responsibility from both the internal and international aspects, Stein Tonnesson, an expert on Viet Nam at Norway's University of Oslo, told a BBC Radio reporter.
Tonnesson reckons the seat on the Security Council will be a challenge for the Southeast Asian country to prove its crisis-handling capability.
Reuters points out that Libya, Viet Nam and Burkina Faso easily gained two thirds of the votes in the first round of voting to become non-permanent members of the Security Council.
Major European newspapers like The Daily Mirror, German Wave, Southern Germany and Daily Bulletin along with the DPA news agency and N-TV highlight that, for the first time in the UN's history, Viet Nam has been chosen along with four other newcomers to sit on the 15-member council for two years from January 1.
News of the UN Security Council membership for Viet Nam was aired on Australia's ABC Radio, Radio France International and Radio Free Asia from the night of October 16.
In an interview with the Vietnam News Agency, Deputy Prime Minister and Foreign Minister Pham Gia Khiem said this was Viet Nam's biggest political event of 2007 in terms of external relations.
"We have prepared for joining the UN Security Council since 1997, when we started the run for the non-permanent seat in the 2008-09 tenure. In October 2006, the group of Asian countries unanimously nominated Viet Nam as the continent's only candidate for the seat and, on October 17 this year, Viet Nam was elected to the organization with a high proportion of the votes," Mr. Khiem said.