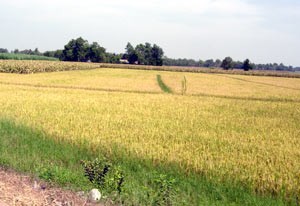 A rice field in Viet Nam. (Photo: T.C.)
The new government in Thailand, the world's biggest rice importer, will still conduct the previous aid policies for farmers, confirmed its representative at the International Rice Research Conference in Ho Chi Minh City.
The Thailand's export price of rice dropped US$10 a ton as some Thai exporters worried that the new government will sell from its national rice reserve.
The price then climbed up, and it is now at US$304 – US$306 a ton. Meanwhile, the Viet Nam's export price of rice is at US$273-US$275 per ton of 5-percent broken rice, and US$245-US$246 per ton of 25-percent broken rice, a US$20 increase from early of this year.
In addition, poor crop of wheat in some countries limited their export rice sales. Therefore, the global rice price in 2007 is expected to be higher than this year.
Related article:

Viet Nam Wins Contract for Exporting Rice to Japan
Viet Nam Wins Bid to Export Rice to Japan
Viet Nam Export Rice Price Increases
Nearly 3.3 Million Tons of Rice Exported in 7 Months
Vietnamese Rice Hits Stores Worldwide