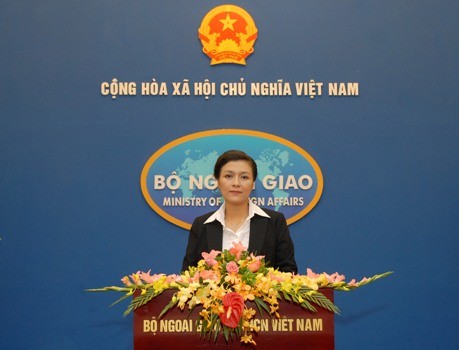 Ms Nguyen Phuong Nga, spokesperson of the Ministry of Foreign Affairs of Vietnam
The spokesperson of the Ministry of Foreign Affairs of Vietnam reiterated "Vietnam's clear-cut stand that is to settle all issues, including those related to the East Sea, by peaceful means and through dialogues on the basis of international laws."
Ms Nguyen Phuong Nga made this statement when asked about the fact that recently, the Chinese newspaper Global Times published a series of articles with sharp voice about Vietnam-China relations relating both sides' claim of sovereignty in the East Sea.
"The newspaper's commentary is lacking in goodwill and not true, badly affecting bilateral relations between the two countries and hurting the feelings of Vietnamese people. The newspaper is nothing but the voice of a certain group of people and does not represent the Chinese people. So I think the Chinese people as well as other people in the region and the world cannot share and agree with such comments lacking in goodwill." Ms Nguyen Phuong Nga stressed in a regular Press conference on June 23rd.
Ms Nga reaffirmed that Vietnam always wants to develop ties of friendship and cooperation with China. The two countries have made significant efforts to build a strategic comprehensive partnership so Global Times' comments are far from meeting the aspiration of the two countries' people.
Regarding the exchange of activities between Vietnamese and US navy forces, Ms Nga said Vietnam has carried out similar activities together with the navies of some countries and their calls at Vietnamese ports are quite normal. The upcoming activities between the US and Vietnam navy forces are annually scheduled and agreed upon to strengthen cooperation between the two navies in doing some humanitarian work and exchange professional experience.