The country is seeing hotter, drier weather due to the El Nino phenomenon and global climate change, a weather expert has said.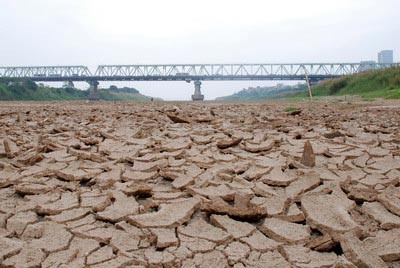 Drought seen in the Red River in Hanoi (Photo: SGGP)
According to Deputy Director Le Thanh Hai of the National Center for Hydro-meteorological Forecasting (NCHMF), Vietnam has seen fewer cold fronts this year with average temperatures much higher than in previous years.
North and north-central provinces could see long-lasting heat waves with temperatures climbing as high as 39 degrees Celsius, the NCHMF said.
The sweltering weather has also created severe droughts and a high danger of forest fires in the country.
The scorching conditions have led to a drop in water levels of large hydroelectric lakes like Hoa Binh, Tuyen Quang and Thac Ba; and several rivers in the Highlands and south where the rainy season will come late this year, said Mr. Hai.
Low water levels in the Mekong River will lead to severely low levels in other southern rivers including Ho Chi Minh City and its suburban districts. This has allowed more seawater to penetrate inland causing losses for farmers.
The Mekong Delta coastal provinces are suffering badly from high levels of salinity. Thousands of hectares of rice in provinces like Kien Giang, Bac Lieu, and Ben Tre have all but died due to seawater penetration.
The increasing salinity has also led to a severe shortage of freshwater in some parts of the country.
The Southern Institute of Water Resources Research has warned local governments to manage irrigation systems so as not to cause conflicts between farmers who need seawater for shrimp-breeding ponds and those who need freshwater for rice growing.