The U.S. Consulate General in Ho Chi Minh City and the U.S. Embassy in Ha Noi have activated a new online appointment system for people wishing to apply for nonimmigrant visas, effective on Mar. 29.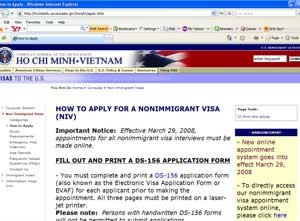 The nonimmigrant visa page on the U.S. Consulate General website
Nonimmigrant visas include those issued to students, businesspeople, and visitors or tourists. This new system offers an easier, more convenient way for applicants to schedule a visa interview appointment. It is available now at http://hochiminh.usconsulate.gov and http://hanoi.usembassy.gov for applicants applying at the U.S. Consulate and U.S. Embassy, respectively.
From Mar. 29, all appointments for nonimmigrant visa interviews must be made online through the U.S. Consulate or Embassy websites. Citibank will no longer be authorized to schedule appointments, the U.S. Embassy announced on Friday.

The new web-based appointment system is free of charge, and is available seven days a week, 24 hours a day, so that applicants can complete the process at their convenience. However, applicants must continue to pay the $131 nonrefundable nonimmigrant visa application fee at Citibank in HCMC or Ha Noi.
Under this improved system, applicants may now schedule interview appointments as much as a month in advance, and can choose any available appointment date and time. If applicants need to change their appointment date or time later, they can do so online without contacting the U.S. Consulate or Embassy. The appointment website also provides information about each visa category.