Two days after the State Bank of Vietnam (SBV) announced it will keep the foreign exchange rate unchanged, gold prices continued to increase to over VND 35 million per tael this morning.

Yesterday afternoon, the gold price was still high. SJC gold prices listed by the Saigon Jewelry Holding Company in Ho Chi Minh City stood at VND 35.1 million per tael for buying and VND 35.2 million for selling, up by VND 340,000 and VND 400,000 respectively compared to yesterday morning, an increase by VND 1.8 million against last week's price.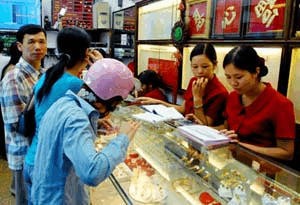 Buying gold at a Jewelry shop in HCM city

Ms Nguyen Thi Cuc, Vice General Director of Phu Nhuan

Jewelry Company (PNJ) recommended that investors should not buy gold for profit at the moment because of high risk as the domestic gold price is VND 400,000 per tael higher than the international price…

According to the Wall Street Journal, gold futures rallied to a record high on Friday, settling less than US$3 away from US$1,400 an ounce a day after the biggest one-day gain in nearly 20 months. Gold for December delivery added US$14.6 to the US$1,397.70 per ounce on the New York Mercantile Exchange.

On the domestic free market, the price of US dollars saw a sharp drop right after the SBV's above-mentioned announcement, but then increased slightly again. Yesterday afternoon, one US dollar sold for VND 20,680-20,700, up VND 100/USD compared to the previous day. This morning, the selling price at the " black market" was VND 20,850 per US$1.