The Saigon Jewellery Company (SJC) this morning quoted the opening sale price of VND19.15mil/tael, but then reduced it to VND18.9mil/tael at 10.40 am. The gold market is reeling from the dollar's hornpipe.
SJC changed its quoted gold price three or four times just within three hours this morning. At 8.30 am, the company quoted the same price as yesterday afternoon. However, the company decided to raise the quoted prices by VND130-140,000/tael to VND19.06-19.15mil/tael at 9 am. One hour later, the exchange rates were changed to VND19.03-19.13mil/tael. However, the company then unexpectedly slashed the prices to VND18.75mil-18.9mil/tael.
The same moves were made by other gold companies this morning. Bao Tin Minh Chau Gold Shop in Hanoi quoted the sale price of VND19.15mil/tael early this morning, and then reduced it to VND19.05mil/tael.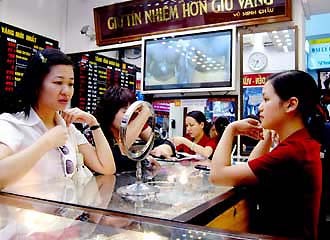 People welcomed news of gold and USD prices plunging at a gold shop in Hanoi.
Director of the Agribank's Gold, Silver and Gemstone Company Nguyen Thanh Truc said that the domestic market is now being pressured by the VND/US$ exchange rate. Truc said that yesterday, when the dollar price surged to over VND19,000/US$1, the gold price also soared by VND500,000/tael to over the VND19mil/tael threshold. However, as soon as the dollar price decreased, gold traders rushed to slash sale prices.
The supplies of gold to the domestic market are running out as companies have stopped imports. The State Bank of Vietnam has revoked all import licences, including from companies which still have import quotas.
Analysts say that with the VND/US$ exchange rate of VND19,000/US$1, the domestic price is still VND1mil/tael lower than the world's price.
Kitco electronic board showed that at 10.20 am, the gold price with spot deliveries in Asia was $896.70/oz, down by $1.3/oz compared to New York's closing price last night.
Bloomberg newswire reported that Schroder investment fund forecast the gold price may reach $5,000/oz due to escalating inflation worldwide. The fund believes that in 20 years, central banks in the world, especially in developing countries, will push up purchases of gold for reserve. Investment funds may also restructure their investment portfolios, possibly raising gold reserves to 40%.
Meanwhile, the greenback price has slightly decreased after skyrocketing yesterday and the day before.
At 11.30 on June 20, the dollar price was VND60-800/US$1 lower than the day before.
Analysts have attributed the dollar price decreases to news about the foreign currency reserve of $20.7bil, which is big enough to intervene in the market if necessary. The information was released by Governor of State Bank of Vietnam Nguyen Van Giau during an online business forum with domestic and foreign investors on June 19 in the afternoon.
The State Bank of Vietnam slashed the official exchange rate from VND16,457/US$1 to oVND16,454/US$1 on June 19 and to VND16,452/US$1 on June 20, sending the message that it is trying to stabilise the VND/US$ exchange rate