After four children fled from a gold mine in the central province of Quang Nam, their stories about their forced and grueling work was made public. As a result, on Friday the local authorities established a task group to inspect the mine.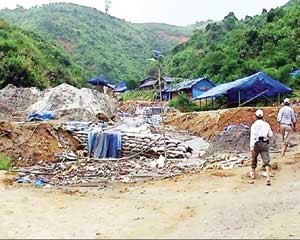 An illegal gold mine in Quang Nam province
Phuoc Son district People's Committee in Quang Nam formed the task group headed by the district police and will examine not only the mine of Kim Thanh Loc Company, from which the children had escaped but also other mines in the area.
District Deputy Chairman, Doan Van Thong said if the task group discovered mine owners using underage workers who are forced into extremely hard labour, the local government would prosecute them under the law.
"Gold mine owners are reacting to the news of the task group by dismissing underage workers. On Friday afternoon, many children were found walking down the Ho Chi Minh Highway trying to catch passenger buses back to their hometowns" reported Mr. Doan Van Thong.
The four children who escaped from the gold mine are under the care of the district's Population Family & Children Commission and will be witnesses in a trial that is laying charges against the mine owner.