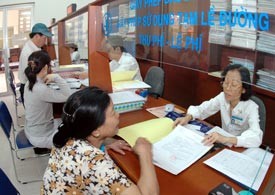 Administrative offices have to work better if they don't want to be viewed bad.
In the meeting with two National Assembly members Truong Tan Sang and Dang Thi Ngoc Thinh on October 3, voters of District 3, HCMC, are concerned about the cases of bribery for high positions in government offices, for lighter court cases and about the intervention of local party committee into the court's work.
In some cases, the court's judgement did not seem severe enough and many criminals were able to escape punishment, due to a lack of strictness, harmony and qualified court officials, especially in serious corruption cases involving high-ranking officials.
A voters suggested that there should be a prize for individuals and organizations who received complaints from the public, like the Golden Rasberry Prize in the US film industry, in addition to the honorable rewards for those who fulfill their duties.
Mr. Truong Tan Sang advised that the complainants should clearly identify the cases and the address with clear evidence so that concerned authorities can settle the problem.
Truong Tan Sang is also member of the Political Bureau and the Standing Committee of the Secretariat of the Communist Party of Viet Nam Central Committee, and Ms. Dang Thi Ngoc Thinh is also Deputy Chairwoman of the Population, Family and Children Committee.