Ho Chi Minh City's market management force has detected over 30 smuggling cases and seized approximately 6,250 units of products without import invoices since the beginning of April.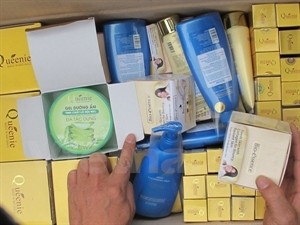 Cosmetics are the most commonly smuggled product (Photo: VNA)
The products are mainly watches, mobile phones, laptops, cosmetics and clothes.
With 17 cases of violation, cosmetics are the most commonly smuggled product. Most originate from Thailand, the US, China and Japan, and are sold in markets across the 24 districts of the city.
Tobacco trafficking is also a primary concern of municipal authorities, as traffickers are using more complicated methods that can be difficult to detect.
More than 2,000 packs of smuggled tobacco have been seized this month.
Tobacco smuggling has expanded due to the availability of cheap tobacco in neighbouring countries with price disparity ranging from VND 3,000 to 12,000 per pack, compared with legally imported products.