Viet Nam will be an important target for Google in the near future, said Mr. Dipchand Nishar, Product Manager of Google Inc. He complimented Viet Nam in a recent interview.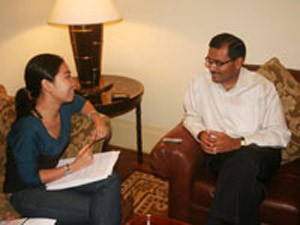 Mr. Dipchand Nishar answers questions in an interview (Photo: Thanh Nien Newspaper)
Mr. Nishar arrived in Viet Nam Monday to do research and carry out surveys of Vietnamese market. According to him, the final mission after all these activities is that find out about the needs of Vietnamese Internet users.  
Mr. Nishar gave a lot of compliments when talking about the development of the information technology in Viet Nam. He ranked the speed of the development highly in comparison with other developed countries.  
However, he was a little bit worry about the speed of the e-commerce. He blamed the cash payment for causing a slowdown of the e-commerce. Vietnamese customers frequently use cash in their transaction and it becomes a habit and it is hard to adopt something new like credit cards or checks. Thus, when the transaction is carried out on Internet, most users hesitate to use credit cards to pay for their transaction.  
The consequence of this habit also limits the development of the credit card in the banking, he noted.  
On the other hand, he still believed that e-commerce in Viet Nam will have a new face in the near future as the credit card use become more and more common in this market. 
Though admitting that Google does not yet have any online newspaper by Vietnamese as Yahoo does, Mr. Nishar affirmed that there would probably be a Vietnamese online newspaper released by Google in the near future.  
He also emphasized that Viet Nam is an important target for most international companies once they arrive Asia, in particular the two giant Yahoo and Ebay. 
At present, a new service of Google entitled Map Maker is more popular in Viet Nam as more and more Vietnamese internet users are connecting and creating products from that. Google Map Maker is a Google Maps service that allows you add or edit features, such as roads, business, parks, schools and more. The Google Map Maker tools allow users to visually mark locations and add detailed information about these locations.  
Viet Nam is second largest number of connections to Map Maker, following India.