Google may pay millions of dollars for Vietnam's literary works, aiming to avoid being sued for copyright infringement, it was announced recently.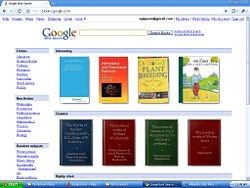 Google Book Search screenshort
Google has recently used more than 4,000 Vietnam's literary works on Google Book Search without permission from their respective authors.
To compensate for this copyright infringement, Google will pay copyright owners US$60 and 63 percent of revenue earned from every work.
The web's leading search engine sent a letter of copyright payment to the Vietnam Literary Copyright Center and asked the center to reply before September 30.
However, the center does not represent every author in Vietnam.
Doan Thi Lam Luyen, director of the center, said that more than 1,000 writers have given authority to the center.
The center cannot contact all authors of literary publications that were violated by Google before the dead line, she added.
Domestic copyright protectors are confused and looking for a way to meet Google's illogical demand, she said.
The center has proposed the Ministry of Home Affairs give it a nod to extend its management to not only members of the Vietnam Writers' Association but also authors of all printing works.
However, according to Prof. Nguyen Van Nam, director of Nam Hung Law Company, no association or department can represent a writer to negotiate or sign a contract without his or her permission.
Although the center has signed a copyright agreement with Google, authors who have publications used by Google and have not granted authorization to the center can sue the world's leading search engine, he added.
People have the right to ask Google to extend the deadline. Then the country can gather all authors and negotiate copyright payments in accordance with international law, he said.