Mr. Dang Van Phuc in Ki Phong Commune, Ky Anh District of Ha Tinh Province has a 36-fruit raceme gourd with the largest being the same size of an orange and the smallest an egg.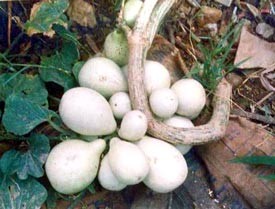 The gourd with 36 fruits
Of the 36 fruits, the largest is as big as an orange, the smallest- an egg.
Mr. Phuc said that he discovered the strange 36-fruit raceme 20 cm far from the foot of the gourd harvesting.

He added that the seed of the gourd was provided by his neighbor; Two were grown but one died.