The Government office Friday announced that the road maintenance fee would be delayed till January 2013, 6 months later than the proposal by ministries of Transport and Finance.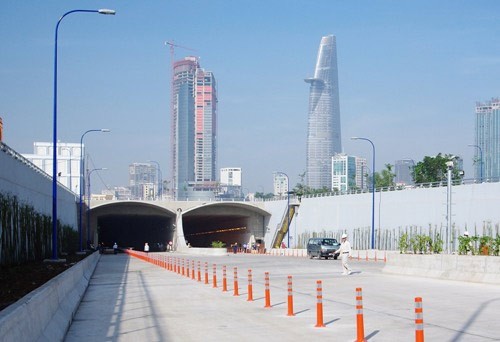 Entrance to Sai Gon River Crossing Tunnel in Ho Chi Minh City. The Road Maintenance Fund will be used to upgrade transport infrastructure and help ease trafiic congestion in big cities.
The chief of the Government Office Vu Duc Dam said that the deadline of June 1 was too urgent meanwhile the fee payment was related to the whole people hence the Government required the ministries to recomplete the plan with evaluating effects of the plan on the people life, suggesting ways to collect the fees and widely reporting the plan to the people.

The Road Maintenance Fund will be managed at both central and local levels, with 65% of automobile fees paid to the central coffer and the remaining will go to the local budget. As for the motorcycle fee collection, each locality will manage the fund on its own.
The central fund will be spent on national highway maintenance while local funds will be used for upgrading roads in the locality.
According to the plan submitted to the Government, every year vehicle owners will pay in total VND 6 trillion ($285.7 million).
Regarding to other fees such as personal vehicle limiting fee, city center entrance fee, Mr. Dam said that Prime Minister Nguyen Tan Dung had presided over a conference to listen to reports by the ministries.
The Government reaffirmed that traffic fee plans should have received the people consensus and the ministries submit the plans to the Government if and only if they complete the best plans, he added.
The Government will submit the best fee plans to the National Assembly and the plans will be deployed after they are approved by the NA, he said.