The Government plans to provide an allowance for low-income groups and small and medium scale enterprises, due to the pressure of price hikes.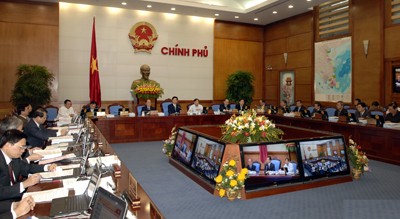 The cabinet at its monthly meeting in Hanoi on March 30 (Photo: Chinhphu.vn)
All cabinet members agreed to this at their regular monthly meeting in Hanoi on March 30 under the chair of Prime Minister Nguyen Tan Dung.
The total allowance for low-income earners and poor households will increase up to VND3.1 trillion. This is the greatest effort made by the Government in the current context of inflation and rising prices.
At the meeting, which reviewed socioeconomic growth in March and in the first quarter of 2011 and the implementation of Government Resolution No. 11/NQ-CP, the PM asked ministries and localities to continue to implement measures to curb inflation with an aim to stabilize the macro-economy and ensure social welfare.
He requested these agencies to strictly implement social security policies, especially for poor people, beneficiaries of social welfare and wage earners and urgently build policies for low-income workers.
PM Dung said that while the priority was to curb inflation and stabilize the macro-economy, production growth must be maintained at a reasonable rate.
He added that tight monetary polices have to be implemented but credit quality has to be improved, and credit funds have to be prioritized for manufacturing enterprises, agriculture, rural areas, export, supporting industry and small and medium sized enterprises.
Mr. Dung underscored that illegal trade of foreign currency must determinately be eliminated and all transactions must be done through banks. More foreign currency exchange points need to be opened at airports, border areas, tourist destinations and hotels.
He asked the State Bank of Vietnam (SBV) to introduce urgent and strict measures to stop dollarization.
He also instructed the SBV to issue regulations on foreign currency management, following a directive to reduce foreign currency lending and ensure foreign currency supply to meet people's demand as well as ensure a foreign currency reserve, including enough foreign currency for petrol imports.
The Government leader said that the State respects people's ownership of gold, but it is determined to ban trading of gold bars in the free market.
Mr. Dung asked ministers, local authorities and industry executives to continue to take measures to boost exports, restrain trade gap, cut public investment and ineffective and unessential projects, ensure sufficient power for production, tightly monitor real estate market and restrict the import of luxury items like cell phones and cars.
At the meeting, the cabinet learnt of the good performance of the national economy in the third quarter of this year, with the country's gross domestic product estimated to grow by 5.43 percent year-on-year.
Industrial production rose by 14.2 percent, agriculture increased by 3.5 percent and foreign investment saw a year-on-year rise of 1.6 percent in the first three months.
Exports posted an increase of 33.7 percent, more than three times the target of 10 percent set by the National Assembly.
Vo Hong Phuc, Minister of Planning and Investment, said that 30 ministries and central agencies, 63 provinces and cities, 12 economic groups and state-run corporations had reported cutting of 1,387 projects worth nearly VND 3.4 trillion.
In March the consumer price index rose by 6.12 percent from last December, resulting in a 12.79 percent increase year-on-year in the first quarter.