The country should strive to achieve GDP growth of 6.7-6.8 percent this year instead of the earlier target of 6.5 percent, and inflation must be kept to a single digit, the Government said at its extended conference in Hanoi on January 6 and 7.
To achieve the targets, it proposed several measures to be implemented this year.

The leaders of provinces and cities asked the Government to pay more attention to protecting the environment, adapting to climate change, providing soft loans to farmers, and strengthening defense and securing territorial sovereignty.

The management of investment should be further decentralized, with local administration having a greater role, they said.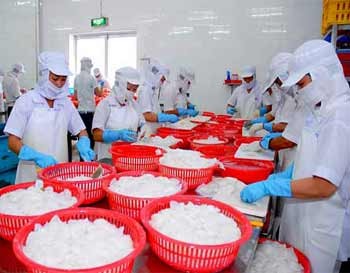 Workers process cuttlefish for export at Saigon Fisheries Trading JS Co. The Government aims to keep the trade deficit under 20 percent of exports and achieve a GDP growth rate of 6.7-6.8 percent. (Photo: SGGP)
The Ho Chi Minh City People's Committee chairman, Le Hoang Quan, sought the Government's assistance for the city's programs to prevent flooding and decongest its roads.

With proper decentralization of investment, local authorities would do their tasks more rapidly and more efficiently, Nguyen The Thao, the Hanoi chairman, said.

Many wanted the Government to ensure important policies are executed in a timely manner to ensure their effectiveness.

Last year was a successful one for Vietnam since it was among a small number of countries to achieve growth, Prime Minister Nguyen Tan Dung said.

However, many challenges remain, including the economy's instability and lack of competitiveness.

Approving of further decentralization, he urged local authorities to ensure inflation remains in single digits, the trade deficit does not exceed 20 percent of exports, and investment in economic development expands.
Investment procedures must be streamlined and site clearance must be sped up to ensure the progress of projects, he said.

"It takes just three years for China to complete 2,000 km of expressway, while we need about the same time to build just 40-50 km of the Thai Nguyen-Hanoi highway. What must we do to change the situation?"

He agreed that the central and local authorities should focus on resolving social security issues, easing traffic congestion, protecting the environment, and strengthening national defense.

He also said that unlike last year the Government would not provide allowances for the poor for next month's Tet (lunar New Year) and local authorities should make plans to assist the poor and people eligible for social welfare grants.


Eight groups of Government's solutions

• Boosting economic recovery, restructuring the economy, and speeding up growth;
• Applying monetary and financial policies flexibly and prudently to stabilize the economy and check inflation;
• Improving healthcare services and enhancing the cultural and spiritual life of people
• Ensuring social security and welfare;
• Strengthening measures to protect the environment, mitigate the impact of natural disasters, and adapt to the climate change;
• Enhancing efficiency of external activities, consolidating national defense and security; and
• Improving State administratiion efficiency, stepping up administrative reform, and fighting corruption.