A dispatch from Minister of Health Nguyen Quoc Trieu January 14 exhorts health workers to take proactive measures against epidemics, especially bird flu and acute diarrhea.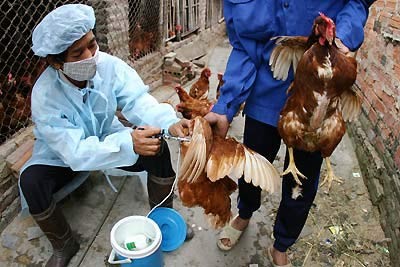 Vaccination poultry carried out to prevent avian influenza in the winter season
The ministry is concerned about a possible human bird flu epidemic and other infectious diseases with the onset of winter.
The dispatch also calls on medics to work round the clock to deal with emergencies, road accidents, and deliveries during Tet holiday (the lunar New Year).
Doctors should be ready to provide medicines and treat emergency cases, especially patients with acute diarrhea and bird flu, it says.
It instructs hospitals and pharmaceutical companies to have adequate stocks of drugs on hand at reasonable prices.
In related news, the Ho Chi Minh City People's Committee has ordered local authorities to monitor bird flu outbreaks in their areas.
It has told them to stop sales of live poultry and smuggling of water-fowl into the city. It warns of harsh penalties for those found breeding poultry on the sly and throwing dead birds into canals and lakes.
It asks the authorities to raise public awareness until people refuse to consume meat products that lack clear indications of origin.