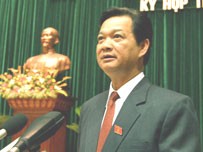 Deputy Prime Minister Nguyen Tan Dung.
A memo by Deputy Prime Minister Nguyen Tan Dung has been signed which demands the Ministry of Transports of Viet Nam (MT) to tighten its control over project management.
In light of the PMU18 case, Deputy PM also asked the MT to double-check, re-relegate areas of responsibility in Project Management Units (PMU), in order to avoid making the same mistake as in PMU18.
In addition the Deputy Prime Minister required stepping up inspection and supervision of personnel. Those who appear inept or fail to meet work requirements, especially general managers, deputy general managers of businesses under the MT, must decidedly be replaced.
The MT is required to have strict inspection and scrutiny of equipment purchases of the Viet Nam Railways Corporation and to seriously deal with any irregularities.